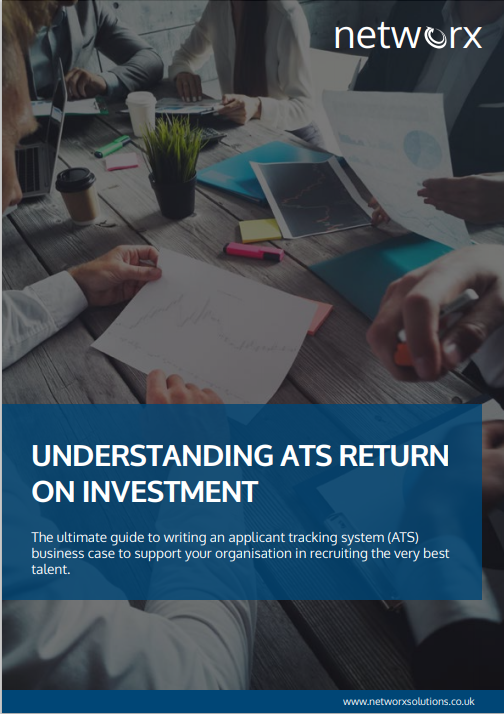 Leverage the power of an ATS with our ROI business case guide
As a HR and recruitment professional, your role is to attract, engage, manage and onboard the highest quality of talent. However, we all know the process is a lot more complex
than that. An effective recruitment strategy includes building a talent pool, managing candidate sifting, feedback and long-term employee retention.
These are all things a robust and intuitive applicant tracking software can help support you and the business to achieve. In order to implement this level of change within your business, you may require a business case, to assess your options and analyse the return on investment.
In this guide, you will learn how to build a business case showing the ROI whilst exploring the benefits of utilising an ATS
including; reducing cost per hire, increasing quality of hire and decreasing time to hire.
Defining success with an ATS
Measuring the Return on Investment evaluates the cost-effectiveness of an investment,
enabling a demonstration of the financial and timely benefits to implementing a new service or
product. The same argument applies when reviewing your recruitment processes and tools.

Whether you are looking to reduce agency dependence and cost, or implement technology to
centralise processes and maximise the power of automation, the decision making process relies
on demonstrating return on investment.

ATTRACT
Maximise the exposure of
your vacancies and reach
a wider pool of quality
candidates

ENGAGE
Proactively engage with
high quality, relevant
talent to promote your
opportunities MANAGE
Identify top talent
quicker and deliver the
best possible candidate
experience ONBOARD
Provide every new starter
with the best introduction
to your business and
beyond
Download your free guide today, to innovate your recruitment!